Software testing services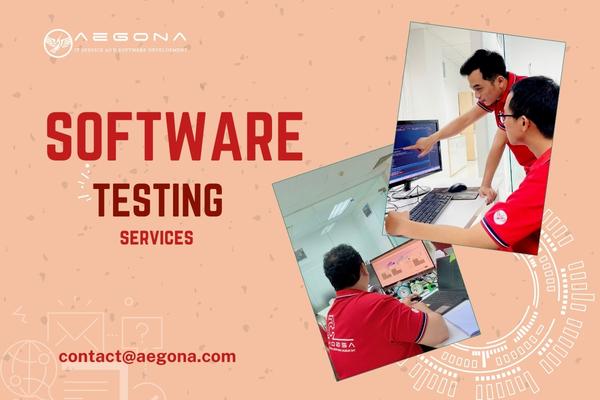 To ensure that software meets all standards and expectations upon release, a testing process is indispensable. We call this task a software testing service.
With more than 10 years of experience in the IT field of our staff, we have a variety of customers from many countries such as Singapore, Australia, Japan, New Zealand, and Vietnam... looking for guidance on software solutions. suitable for their business. 
Aegona's software testing service development model includes testing on web or mobile apps and custom app/software testing carry by QA engineers quality. With the purpose of supporting customers to provide quality software. Aegona also receives 100% trust from customers when they choose to entrust soft products to us to conduct quality and operational process testing.
1. Why choose Aegona for your software testing services?
Skilled and experienced QA engineers: The selection of software developers as well as the QA/QC team is always carefully selected before being put to work. Most of those participating in the testing process has 3-5 years of experience in this field.

Ready to work after the censorship process: Before going to work for you, we will spend 1-2 days exchanging information and implementing related contracts. We understand better than anyone the desire for quick progress to increase competitiveness in business, so Aegona will try our best to support customers.

Focus efforts on the project: The staff you choose for your outsourcing project will only focus 100% of their efforts on your project alone. Because we are customer-centric and only want to create core value for customer projects because we consider this our responsibility and mission when trusted by customers.

Affordable Service Prices: Besides talking about the team, price is also the point that makes you choose Aegona. We commit to good prices for customers in all services. Reasonable costs come with quality products for customers.

 
2. Aegona's software testing process
Software testing is a critical process in software development to identify defects or bugs in a software product to ensure its quality and reliability. Here is an overview of the typical software testing process of Aegona:
Requirements Analysis and Test Planning: We will create a comprehensive test plan that includes objectives, resources, schedules, and testing methodologies.

Test Design: Defining input data, expected outcomes, and execution steps for each test case.

Test Environment Setup: Setting up the necessary hardware, software, and other resources to execute the tests. 

Test Execution: Running the test cases in the environment according to the defined test plan and recording actual results and any deviations from expected outcomes.

Defect Reporting and Tracking: Documenting defects or discrepancies between actual and expected results. Assigning severity and priority levels to defects and tracking them for resolution.

Defect Resolution and Retesting: Once defects are fixed, testers retest the software to ensure the issues have been addressed and verify the fixes.

Regression Testing: We conduct tests to ensure that new changes or fixes have not introduced new defects or affected existing functionality. Re-executing selected test cases from previous test cycles.

Acceptance Testing: We evaluate the software to determine if it meets clients' requirements and expectations based on end-users.

Release and Deployment: Preparing the software for production release based on the results of testing and approval from clients. 

 
3. Types of Software Testing Services to Aegona
Functional Testing: During functional testing, we consistently reexamine the critical functionalities to prevent any potential regressions. Our team crafts test cases based on client requirements and suggestions, meticulously documenting the results and thoroughly investigating instances with failed or questionable outcomes.

Security Testing: This branch of Software Testing ensures that the system's data and capabilities remain secure and impervious to unauthorized access. Essentially, it validates that applications are risk-free and shielded against potential threats or dangers that could result in loss.

Performance Testing: Performance testing is carried out using realistic loads and pressures that mirror real-world usage scenarios. This type of testing involves subjecting computers, networks, software programs, or devices to assess their response speed and stability under varying levels of stress.

Usability Testing: Usability testing evaluates how intuitive and enjoyable an application is for end-users. The key focuses of this testing approach are evaluating the ease of use, adaptability to user constraints, and the application's ability to accomplish its objectives.

 
If you're interested in seizing this opportunity or if you have any questions about our services, please contact us via email at [email protected] or hotline at (+84) 914 518 869 (WhatsApp). We look forward to possibly collaborating with you.


connect with us
THERE'RE SEVERAL WAYS TO CONNECT WITH US