Top 05 Reasons To Outsource React Js Development In Vietnam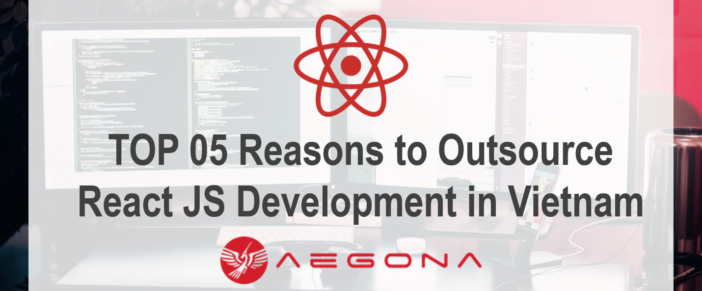 Aegona software offers complete react js development in vietnam. We build interactive websites and astonishing mobile apps using react js and react native
React is a front-end library. It is used for handling the view layer for web and mobile apps. ReactJS allows us to create reusable UI components. It is currently one of the most popular JavaScript libraries and has a strong foundation and large community behind it
Outsourcing React development is an efficient way to make the most out of the framework's features. So in case you are wondering should you choose to Outsource React JS Development in Vietnam or not, this post will offer a deeper look at the most impactful benefits of it
05 Reasons to outsource react.js development in vietnam
In this article, we've gathered the information on several IT outsourcing in Asia and it is impossible not to mention Vietnam located in Southeast Asia, this is a strong developing country in the field of software outsourcing
Then trusting React development to outsourced professionals is a cost-efficient, scalable, and sustainable way of bringing new projects to the market. Here are 05 benefits that outsourcing React.js development in Vietnam offers:
1. COST-EFFICIENCY
Building and sustaining an in-house team is expensive. In the long run, the costs of hiring talent, onboarding employers, investing in talent management software, paying office rent and electricity bills are considerably higher than that of working with an outsourcing React.js development company on a project basis.
Outsourcing React development in Vietnam is another efficient way to reduce development costs. A junior React.js developer based in Vietnam earns between $15 and $25/hour, so the project development costs are quite competitive compared to Southeast Asia. On average, Vietnam developers 'hourly rates are twice as low as those of their counterparts
2. QUALIFIED LABOR FORCE
As a business owner, you are not supposed to be the most skilled tech professional in your company and on the market. By hiring a top-tier outsourcing at Aegona - we handle React.js development, you can be confident that Aegona Software is hiring developers based on their knowledge of modern instruments and compliance with best practices
3. ON-TIME DELIVERY
On time delivery is a measure of process and supply chain efficiency which measures the amount of finish goods or services delivered to customers on time and in full. It helps determine how efficiently we are meeting our customer's or agreed deadlines
So Aegona always remember that servicing the customer's needs, including adhering to lead times, should be an important priority to everyone in the business. From the customer's side lead times are important to ensure an orderly and timely operation of their productive system, specially if they operate on a Just in time basis (JIT).
4. LESS PAPERWORK
Outsourcing React.js development in Vietnam allows business managers to take formalities off their plate. A business manager will not have to handle employee contracts and salary management, file financial statements, and tax returns. All the paperwork will be handled by the Contractor. A service agreement with an outsourcer will be the only document to turn in
5. TAX BENEFITS
Depending on the country a company is based in, a business manager might have to pay a 30-50% overhead for each employee's salary in taxes. For example, Japanese, Austrian, Belgian, and Israeli business owners have to pay over 50% of tax overhead per employee.
On the other hand, In Vietnam with considerably lower tax rates. for example, there's a 5% tax rate — that's 10 times lower than in most EU countries. Thus, choosing to outsource React developers from Vietnam, would yield considerable tax benefits that business managers can't afford to ignore
Aegona - The best react js outscouring development company in vietnam
Aegona is leading ReactJS development services provider based in Vietnam which provides and offers the best platform for ReactJS development services in Malaysia, Singapore, Japan, Australia, UK. We have an advanced and dedicated ReactJS development team who can build and resolve your custom based demands
With our policy of hiring the best skilled ReactJS developers,  you can rely on our services without any fear of data breach. Our fundamental functionality in Mobile Application Development is followed both in hybrid and native format. Considering Aegona as the best ReactJS development company, here we deal with the productive approach for developing a web application
Conclusion
React.js development is popular among small-scale and large-scale business owners since it enables building reusable, scalable, and easy-to-manage applications from scratch. To increase the efficiency and reduce the costs of development, consider outsourcing talent. Hiring a dedicated team of React developers is a way to make the most out of the framework without losing concentration on the company's core operations.
To hire a team of qualified software developers, reach out to Aegona. We are an experienced team of React developers that help businesses in fintech, property management, education, and other domains build functional and scalable React.js based products
We hope you can find the best partner for your business. Take a look at our portfolio to see the full range of projects our professionals have tackled. To discuss your idea — leave us a message via:
Email: [email protected]
Phone: +84 28 71092939    |   Hotline: +84 933 848989
Website: www.aegona.com 
Fanpage: Aegona Ltd
Address Floor 4th QTSC Building 9, Quang Trung Software City, District 12, Ho Chi Minh City, Viet Nam

connect with us
THERE'RE SEVERAL WAYS TO CONNECT WITH US