Web Application Development Company In Vietnam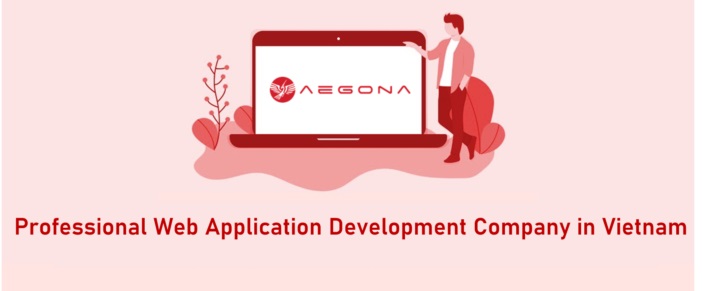 Aegona is the best of web application development company in vietnam. contact us today & discuss, how we can develop a mutually beneficial and long term relationship
When the smartphones started taking off, many companies were quick to jump on the mobile app bandwagon. Every business worth its salt seemed to have its own iPhone and Android app – regardless of whether customers actually wanted or needed it. Today, we know more about how users engage with apps and can focus more on genuine user benefit. While the mobile app still plays a central part in business delivery and innovation, organisations sometimes need an alternative platform. This is where the web app comes in
WHAT IS A WEB APPLICATION?
A web application is a computer program that utilizes web browsers and web technology to perform tasks over the Internet
OVERVIEW
Millions of businesses use the Internet as a cost-effective communications channel. It lets them exchange information with their target market and make fast, secure transactions. However, effective engagement is only possible when the business is able to capture and store all the necessary data, and have a means of processing this information and presenting the results to the user
Web applications use a combination of server-side scripts (PHP and ASP) to handle the storage and retrieval of the information, and client-side scripts (JavaScript and HTML) to present information to users. This allows users to interact with the company using online forms, content management systems, shopping carts and more. In addition, the applications allow employees to create documents, share information, collaborate on projects, and work on common documents regardless of location or device
THE BENEFITS OF WEB APPLICATIONS: FLEXIBILITY AND AGILITY
Unlike desktop or client-server applications, web applications can be accessed anywhere using a web browser such as Microsoft Explorer, Google Chrome, or Apple Safari. The user can determine which machine or machines he will use to access the web application. Web applications are updated centrally so that the applications are always up to date. Security can also be applied centrally
Web applications run on multiple platforms regardless of OS or device as long as the browser is compatible
All users access the same version, eliminating any compatibility issues
They are not installed on the hard drive, thus eliminating space limitations
They reduce software piracy in subscription-based web applications (i.e. SaaS)
They reduce costs for both the business and end user as there is less support and maintenance required by the business and lower requirements for the end user's computer
EXAMPLE OF A WEB APPLICATION
Web applications include online forms, shopping carts, word processors, spreadsheets, video and photo editing, file conversion, file scanning, and email programs such as Gmail, Yahoo and AOL. Popular applications include Google Apps and Microsoft 365
Google Apps for Work has Gmail, Google Docs, Google Sheets, Google Slides, online storage and more. Other functionalities include online sharing of documents and calendars. This lets all team members access the same version of a document simultaneously
Aegona is an IT service company based in Ho Chi Minh city, VietNam. At Aegona we provide Software Development, Software Testing, Automation Testing and Software Maintenance services with the power of more than 50 software engineers
Our mission is to deliver the best and most cost-effective software development offshoring and outsourcing solutions to customers in areas such as e-finance, ebusiness, logistic, transportation, healthcare, media, education, and other industries for North America, Japan, Singapore, United Kingdom, Malaysia, Australia and VietNam...
Aegona provide full-scale agile development:
Microsoft Technology: Asp.Net, Asp.net core, SharePoint, Microsoft Dynamic CRM,...
Web Development: Html5/css3, JQuery, AngularJS, Angular2/4, Node.js, ReactJS, VueJS,...
Mobile Development: Native Application (iOS, Android, Windows), Hybrid Application (ReactNative, Xamarin)...
Cloud-Based Development: Azure Cloud, Amazone Cloud AWS, Google Cloud,...
CMS, eCommerce and more: WordPress, Drupal, Laravel, UmbracoCMS, .Net OrchardCMS, Magento, nopCommerce, Blockchain, Ethrereum, Hyperledger...
Conclusion
Increased Internet usage among companies and individuals has influenced the way businesses are run. This has led to the widespread adoption of web applications as companies shift from traditional models to cloud-based and grid models. Web applications give businesses the ability to streamline their operations, increase efficiency, and reduce costs
These online apps such as email clients, word processors, spreadsheets, and other programs provide the same functionality as the desktop versions. However, they have the added advantage of working across multiple platforms, having a broader reach, and being easily accessible from anywhere
Read more: HOW MUCH IS THE COST OF MOBILE APP DEVELOPMENT IN VIETNAM?
We hope you can find the best partner for your business. Take a look at our portfolio to see the full range of projects our professionals have tackled. To discuss your idea — leave us a message via:
Email: [email protected]
Hotline: +84 28 71092939    |   +84 914 528 869 (Whatsapp)
Fanpage: Aegona Ltd
Address: Floor 4th QTSC Building 9, Quang Trung Software City, District 12, Ho Chi Minh City, Viet Nam

connect with us
THERE'RE SEVERAL WAYS TO CONNECT WITH US