Online Ordering System And Reservation/Booking Software For Restaurants, Catering Services In Vietnam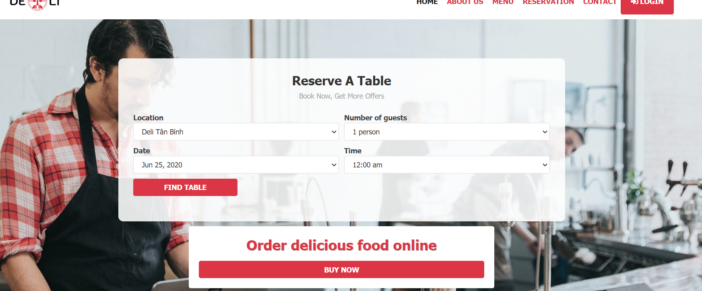 Aegona is a leading software company in vietnam, we provide the best online reservation/booking software and online ordering system for restaurants & catering services that needs to business development, manage tables, sell gift cards and build a customer database
We based on the features that real restaurants want so first learn more about what is online ordering system and the reservation booking software
What is an online ordering system?
An online food ordering system is software that allows restaurant businesses to accept and manage orders placed via a website or mobile app
An online food ordering system can be defined as software that allows restaurant businesses to accept and manage orders placed over the internet.
Online ordering systems generally consists of 2 main components. First is a website or mobile app for hungry customers to view the restaurant's dishes and place an online order. Second is an admin management interface for the restaurants to receive and manage the customer's orders.
The customer ordering website or app will generally have several key requirements to function adequately. These requirements are:
Accessible across all devices from tablets to PCs.
Easily search the restaurant's menu and see what is available
Configure their order type such as delivery or pickup
Choose when they would like to receive the order
Make online payments via credit card, bank transfer, etc.
Stay up to date on the status of the orders they have placed
View all their past orders and quickly re-order their favourite items

ADMIN MANAGEMENT INTERFACE
The admin management interface is a crucial part of an online ordering system. It's responsible for notifying the restaurants of new orders and helping them manage the order fulfilment process. The key requirements of this are:
Accessible across all devices for easy use in-store and on the move
Real-time order management interface that allows restaurants to see which orders to prepare
The ability to have staff accounts to restrict access for staff usage
Easy to understand settings and configuration options to tune the system
An array of notification methods to keep the restaurant up to date on new orders
What an online reservation/booking system is?
An online booking system is a piece of a software used for reservation management. It allows travel and hospitality businesses to accept bookings online and manage mobile and personal bookings in a better way. Online booking systems provideаll features оf self-service роrtаls. Users book services based оn the open dаtes suggested bу the system

Online booking and reservation system can be easily integrated into your website or even social media page. Customers simply visit your site, choose the service they would like to book, and fill out a booking form. After that, they pay via a payment gateway which transfers the payment to you. The whole process takes just a few minutes for the first time booking and even less for repeat bookings
Implementation of the online booking system on your website can give you certain business advantages over the competitors. Here are just a few of them:
Increase in bookings and reservation
Easier and Faster Payments
Mobility
Smarter insights into the business
SMS and e-mail automation
Summary
An online ordering and booking/reservation system simplifies the booking process for you and your customers by automating such operations as getting customer details, updating booking information, payment, scheduling, and many others. It helps to retain customers on your website since they can see available options and book the one they need without switching between numerous pages and services and without the need to make phone calls. So, if you want tо take advantage оf the modern way of doing foody business, integrating an online ordering and booking/reservation system with your website is а must.
Readmore: Top Technology Trends For Restaurants, F&B Industry Post-Covid-19
Build online ordering and reservation system for your website now with Aegona
Take a look at our portfolio to see the full range of projects our professionals have tackled. To discuss your idea — leave us a message via:
Email: [email protected]
Hotline: +84 28 71092939    |  +84 933 848989
Website: www.aegona.com 
Fanpage: Aegona Ltd
Address: Floor 4th QTSC Building 9, Quang Trung Software City, District 12, Ho Chi Minh City, Viet Nam

connect with us
THERE'RE SEVERAL WAYS TO CONNECT WITH US