Offshore Development Services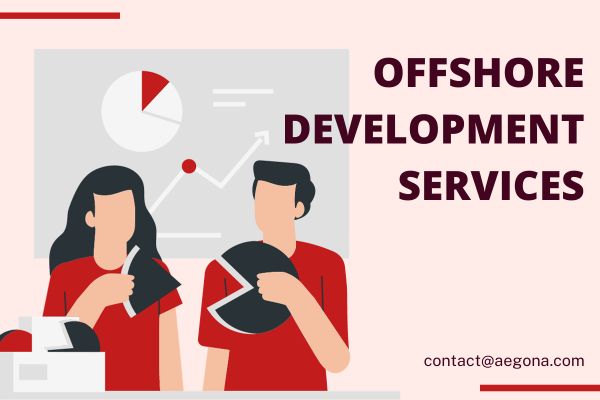 Aegona is an IT service and software development company that helps businesses seek innovative and cost-effective solutions to stay competitive through offshore development services. These services involve leveraging talent and resources from overseas to design, develop, and maintain software applications.
Offshore software development is a practice wherein companies collaborate with specialized teams or firms located in different regions or countries. This collaboration allows businesses to tap into a global talent pool, often at a reduced cost compared to in-house development. The services encompass a wide range of software development solutions tailored to meet specific business needs.
1. Offshore Software Development Services
Offshore software development involves outsourcing software development projects to teams located in a different geographical location, typically in a region with cost advantages or specific expertise. This collaborative model allows companies to benefit from skilled professionals and cost-effective solutions while focusing on their core business operations.
Offshore development extends beyond simple cost savings. It provides access to diverse skill sets, accelerates project timelines, and enables businesses to address resource constraints efficiently. From initial planning to final deployment, offshore development services offer a comprehensive approach to software development, often resulting in high-quality, scalable solutions.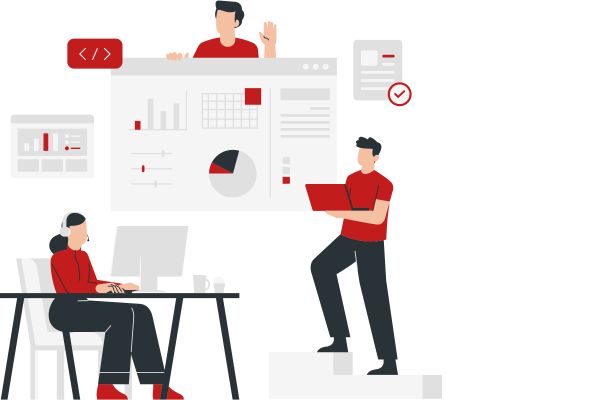 2. Why choose Vietnam for Offshore Development?
Vietnam has become a top choice for companies establishing Offshore Development Centers (ODCs). The nation offers a compelling combination of a rapidly expanding tech industry, a highly skilled workforce, cost advantages, and a supportive business climate.
Affordability: Vietnam presents cost benefits compared to many other outsourcing destinations, making it appealing to businesses seeking to optimize expenditures while ensuring top-notch output.

Thriving Technology Sector: Vietnam's technology industry is on the rise, featuring a growing pool of skilled IT professionals and a flourishing startup environment, making it favorable for technology-centric endeavors.

Young and Well-Educated Talent Pool: Vietnam possesses a youthful, dynamic, and well-educated workforce, often proficient in English and equipped with the latest technological expertise—ideal for collaborative offshore ventures.
3. Offshore Software Development Services We Offer
As a quality provider of offshore software development company, our organization prides itself on delivering tailored solutions that align with our client's unique requirements and goals. Our services encompass a range of offerings designed to maximize the benefits of offshore software development.
Our offshore software development services include:
Web Development: Aegona specializes in web development services, focusing on creating visually appealing and user-friendly websites tailored to your specifications. This includes graphic UI/UX design and the maintenance or enhancement of existing websites and web applications for your business. Depending on your business requirements, you can choose to develop a straightforward static website or a sophisticated dynamic web application.

Mobile App Development: Aegona boasts extensive experience in developing mobile applications across diverse sectors such as education, beauty, and entertainment, catering to clients in the APAC and Vietnam markets. These applications consistently achieve 100% client satisfaction upon completion, reflecting our commitment to delivering high-quality products.

Hire Offshore Developers: To address short-term human resource needs while maintaining top-notch quality, Aegona offers offshore developer hiring services. Our dedicated developers possess considerable experience and strong communication skills, ensuring effective collaboration with international clients. Your business can opt for short-term hires ranging from 1 to 3 months or long-term hires lasting 6 months, aligning with the specific project requirements of your business.

Rent Server or Cloud-Based Services: In addition to our web application, mobile app, and software development services, Aegona provides server and cloud-based rental options for businesses with distinct needs. We offer flexible solutions to support your business requirements effectively.
4. The Benefits of Offshore Development Services
Offshore development services offer a myriad of advantages that can significantly impact a business's operations and bottom line. These benefits encompass financial, strategic, and operational advantages, making offshore collaboration an attractive choice for businesses of all sizes.
Security: Aegona often has robust security measures in place to protect sensitive data and intellectual property. These measures include secure communication channels, data encryption, restricted access, and compliance with international data protection standards. Clients can be assured that their information is handled with utmost security and confidentiality.

High Quality: Aegona has a skilled and specialized workforce, utilizing the latest technologies and best practices to deliver high-quality software solutions. Moreover, our offshore teams often have diverse expertise and experience, providing innovative solutions and fresh perspectives to projects.

Cost-Effectiveness: One of the primary reasons organizations opt for offshore development is cost-effectiveness. Operating in countries like Vietnam with lower labor costs allows for significant cost savings on development, maintenance, and support. Additionally, Aegona software development companies can often provide flexible pricing models, allowing clients to tailor the cost structure to their project requirements.

Time Savings: Offshore development services can accelerate project timelines by leveraging time zone differences. Having a dedicated offshore team focused solely on the project can increase efficiency and productivity, further saving time.
In summary, offshore development services of Aegona offer a combination of enhanced security, high-quality deliverables, cost-effectiveness, and time-saving advantages, making them an attractive option for businesses seeking to optimize their software development processes.

connect with us
THERE'RE SEVERAL WAYS TO CONNECT WITH US